The University of Texas at Arlington, alongside some of the other top Hispanic research universities in the country, works together on cross-regional projects in the area of ​​Latin American humanities. The projects, funded by a $5 million grant from the Andrew W. Mellon Foundation, aim to expand research opportunities for a growing number of Latino students and support a nationwide cohort of Latino humanities doctoral students. .
Institutions participating in the projects are members of a recently announced Alliance of Hispanic Serving Research Universities (HSRU) comprising the country's 20 Hispanic institutions that are also designated as R1 doctoral universities with very high research activity by the Carnegie Classification of Serving Research Institutions. Higher Education. The HSRU Alliance aims, by 2030, to double the number of enrolled Hispanic doctoral students and increase the number of Hispanic professors by 20% at its 20 universities.
UTA faculty work on several projects funded by the Mellon Foundation as part of a national Latin American humanities studies initiative called "Crossing Latinidades: Emerging Scholars and New Comparative Directions." Among the projects: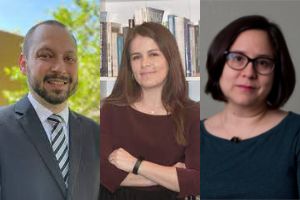 Joshua Newton, a Ph.D. planning and public policy student at the College of Architecture, Planning and Public Affairs (CAPPA), will participate in a research group investigating how Latin American communities are coping with environmental injustices and adapting to extreme climate events in across the United States. He also received a scholarship to attend the Crossing Latinidades Summer Institute in Latino Humanities Studies Methodologies and Theories at the University of Illinois at Chicago.
Ariadna Reyes-Sanchez, assistant professor at CAPPA, is part of a large collaborative project with the University of California at Irvine and the University of Illinois at Chicago on how low-income Latinx communities live and s are adapting to climate change in Texas, California and Illinois.
Cristina Salinas, an associate professor of history, is working with a team of researchers from the University of California, Riverside and the University of Arizona to map the political participation and activism of Chicana and Mexicana women in southern Texas and Arizona.
"UTA's participation in the Crossing Latinidades initiative demonstrates our commitment to expanding opportunities for interdisciplinary research on issues affecting our Latin American communities and to engaging our diverse community of researchers and scholars," said Jennifer. Cowley, president of the UTA. "UT Arlington is one of the most inclusive research institutions in the country, and I'm proud that our engagement in Latin American humanities projects with peer institutions will bring more diverse perspectives to the academic landscape."
A previously announced Crossing Latinidades project at UTA involves Jinny Choi, Sonia Kania, Fernando Melero-García and Ignacio Ruiz-Pérez, professors in the Department of Modern Languages, who assess Latin American studies in the context of the heritage language curriculum and of creative writing. Additionally, under the leadership of CAPPA Acting Dean Maria Martínez-Cosio and Christian Zlolniski, Director of UTA's Center for Mexican American Studies, UTA contributes to several initiatives, including a group one focused on the Spanish as a Native Language curriculum and another dedicated to the intersection of creative writing and social justice.
UTA earned Hispanic Serving Institution designation in 2014, meeting criteria established by the US Department of Education. UTA recently obtained Asian Pacific Islander and Native American Serving Institutional designation as defined in the Higher Education Act (HEA) for colleges or universities with undergraduate enrollments of at least 10% Asian American and Pacific Islander.